Growing an edible garden in Colorado can be more than a fun backyard project. When done right, your edible garden will provide you control over what chemicals and pesticides touch your foods, and can promote a healthy, organic diet. It can also save you money on groceries and can serve as a great educational piece for children.
What edible garden areas you'll learn about:
Fruit bushes and trees
Vegetables
Herbs
As well as how to:
Encourage pollinators
Protect your garden from pests
Pikes Peak Urban Gardens says, "growing in Colorado Springs can be daunting because of all of the microclimates, but there are also many edible plants that thrive here and need little maintenance once established. Herbs like rosemary, lavender, chives, and oregano are perennials here in Colorado Springs! Growing edible plants in your garden is very empowering for people of all ages, but kids also enjoy it and feel a sense of ownership and satisfaction when they put care and intention in growing plants. It's so wonderful to witness a gardener's pride and joy when they get to harvest the food that they have intentionally grown for themselves, their family and neighbors."
If you are new to edible gardening, starting out can be simple.
Here are some tips from Timberline's Personal Gardeners that can help you get started: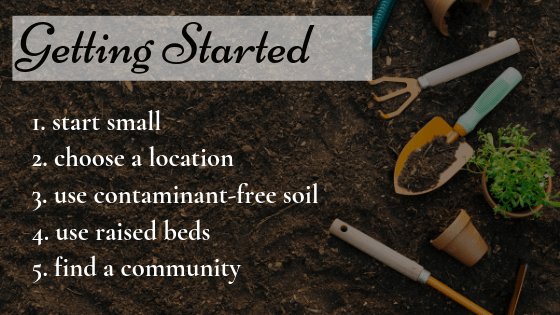 Start small.

Only plant things that you absolutely would eat at first, and add more as you start to gain experience.

Choose a location.

Pick a space for your garden that receives at least six hours of daylight each day and is accessible to water.

Soils.

Use a soil that is contaminant-free.

Raised Beds.

To give you more control of the soil and the nutrients that you receive, consider using a raised bed for your garden.

Find a community.

Colorado gardeners can help you learn about what grows best in your area. Pikes Peak Urban Gardens provides great classes that can teach you everything you need to know to have a thriving Colorado garden. Like they say, "We all have a 'green thumb.' We all have the ability to grow plants, food, herbs and more! Sometimes it takes a little bit of encouragement, guidance, and support to start, and that is what Pikes Peak Urban Gardens is here to do. We take pride in being a resource to the community. Our robust class schedule helps people exercise their 'green thumb' and reconnect with the part of themselves that already knows how to garden and grow!"
In Colorado, there are some limitations when it comes to growing your food because of the elevation. However, there are still many kinds of fruits and vegetables that you can grow to make a thriving garden for food.
Starting your seeds indoors is a great way to start harvesting from your edible garden even sooner, regardless of Colorado's long cold season.
Download our "Increasing the Yield of Your Edible Garden" guide:
Fruits to Include in Your Edible Garden
Because of the climate and altitude of Colorado, growing fruits can be difficult. However, there are some fruit trees and fruit bushes that thrive in Colorado weather.
Some fruit trees that thrive in Colorado include apple, pear, apricot, cherry, nectarine, peach, and plum.
Many of these varieties can handle weather up to -25 degrees Fahrenheit as long as they are planted in a protected area (near the home).
Red raspberries
Yellow raspberries
Blackberries
Strawberries
Vegetables to Include in Your Edible Garden
There are many vegetables you can grow in your edible garden in Colorado – but some grow better depending on the season that you are in: the cool season or the warm season.
Vegetables that grow well in the cool season include:
Turnips
Beets
Kale
Spinach
Lettuce
Peas
Carrots
Radishes
Chard
Cabbage
Parsnips
Cauliflower
Broccoli
Leeks
Brussels sprouts
Potatoes
Onions
Parsley
Vegetables that grow well in the warm season include:
Tomatoes
Peppers
Eggplant
Beans
Cucumbers
Corn
Squash
Melons
Herbs to Include in Your Edible Garden
There are many herbs that do well in Colorado's climate. Many are even beneficial for attracting pollinators and warding off harmful insects.  Herbs are great for beginners and easy to grow. Well-draining soil is a must for growing herbs.
Herbs to Include in your Colorado Edible Garden:
Mint
Basil
Rosemary
Parsley
Oregano
Catnip
Garden sage
Feverfew
Thyme
Garlic
Angelica
Chives
French tarragon
Roman chamomile
Bronze fennel
Lemongrass
Lavender
Lemon balm
As you grow your garden, beneficial insects will play an important role in the health of your plants. Pollinators like bees and butterflies are great for the environment and can encourage more plant growth. Insects like ladybugs feed off of harmful insects as well, protecting your garden. Here's how to plant for pollinators:
Utilize companion planting (described below)
Plant flowers by season in or near your edible garden to keep pollinators coming back
Utilize native plants
Avoid conventional pesticides which can hurt pollinators
Plant-pollinator attracting herbs such as mint, oregano, catnip, garden sage, and thyme
Companion planting is the planting of different crops close together to confuse pests of the whereabouts of their host plant. Companion planting can also encourage pollination and increase overall crop productivity.
Protect Your Edible Garden from Pests
Edible gardens are known for attracting pests. If you aren't diligent about your pest control, your garden can easily be damaged.
Birds and squirrels are pests that are a bit more difficult to ward off. The best way to prevent these pests is with physical barriers such as a greenhouse or wire net.
Covering your plants with a thin, insect-protecting cover that is pollinator safe can help create a barrier between the pest and the plant. You can also use various pesticides to keep insects away, but this will heavily depend on if you want chemicals to touch your plants or not. There are a number of ways to naturally control pests as well.
Additionally, companion planting can also help prevent pests in your garden.
If you don't have space for creating a garden at your home, consider a plot in a community garden. Pikes Peak Urban Gardens has options all around Colorado Springs.
At Timberline, we know that starting your food garden can be difficult. Fortunately, we have a team of gardening experts who specialize in gardening for food that can help guide you through it. Contact us today and we are happy to provide you with the pointers you need to get started.
Download the PDF list along with some useful tips: