There are many benefits associated with companion planting. Arranging flowers and plants for your landscape that go well together can help improve your landscape's look and vigor. Plants can be arranged by color, fragrance, season, or amount of sun/shade they will receive, but what about planting for mutual benefit? Familiarizing yourself with plants that promote each other's health will create a harmonious, healthy garden that can bloom all season long.
What is companion planting?
Companion planting is a method of gardening which groups plants together that benefit one another. There are many benefits to grouping plants together such as protection from pests, shelter, attraction of beneficial insects, and support.
If you want to get deeper into the weeds (ha), companion planting is about building a positive permaculture system that not only benefits your garden but strengthens the greater environment by leveraging the natural relationships that already exist in the system. Permaculture is the conscious development of agricultural ecosystems that promote diversity, enrichment and resilience in a sustainable way. Sounds complicated right? It can be, but we'll keep it basic.
By being intentional about what you're planting, you're contributing to a positive permaculture system. Let's say that you plant beans in your garden which provide nitrogen to the soil, which promotes the growth of flowering herbs and attracts pollinators. And yes, the buzzy little pollinator bees work hard in your own personal garden, but then they go off to pay a visit to your neighbors to benefit their environment and so on and so forth. I bet you didn't think that something as simple as enjoying home-grown beans could impact so many other elements. Talk about the butterfly effect!
The Benefits of Companion Planting
Prevent Garden Pests in an ECO-Friendly way
Certain flowers and herbs, when planted near each other, can help deter pests and act like an insect repellent. By utilizing companion planting strategies instead of pesticides, it can help the environment and can reduce harm to wildlife and damage to plants, as well as yourself! Keep in mind however that nothing is 100% pest preventable. You might still have to pick those caterpillars off your cabbages.
That doesn't mean that these plants won't at least help. The push-pull system in agriculture is about "controlling" pests by using plants that push (repel) or pull (trap) the intruders in your garden. For example, planting flowers such as marigolds (which have a strong odor), covers the scent of vegetable plants, which can confuse pests and deter them from taking over your garden beds (Push, push push).
Dill is a good example of a pulling companion for tomatoes. This pickle-y herb is attractive to the tomato hornworm, which could devour your red yield before you even get a chance to slap it on a burger. The dill acts as a sacrifice, drawing the hornworm away and allowing you to enjoy the fruits of your labor. How noble.
If you're looking for some color in your garden, planting lavender as a border can help ward off snails and slugs with its strong scent. Nasturtium is a trap crop and deters pests like aphids and aids with pollination. Two for one! The flowers and leaves are also edible. Cosmos, marigolds, and geraniums are flowers that attract insects such as ladybugs, which are natural predators to aphids and can reduce the need for pesticides.
Build Your Garden Diversity
With companion planting comes an automatic increase in diversity of plants. This diversity is one of the greatest gifts you can give your little micro-climate. Not only does it totally up your summer salad game, but it will also provides so many positive benefits to your garden and the greater environment. Increased diversity means more nutrients permeating into your soil, which will help continuously build your soil health and keep it fertile for growing seasons to come!
Increasing your garden's diversity is also the perfect invitation to our friendly pollinators so they can do their jobs and keep the greater environment healthy, fed and functioning. Finally, when thinking about diversity, remember it's not only about diversity of plants but diversity of organisms. Bringing a larger variety of veggies into your garden will create a buzzing ecosystem; from the tiny microbes living in the soil to the hummingbirds that are sure to be obsessed with your zinnias! Without diversity, we wouldn't see the beauty of all these amazing symbiotic relationships occur, and our environment would suffer because of it. Basically, you're out there saving the earth one garden at a time.
Some of the most common insect pests in a garden are aphids, flies, moths and beetles. You can really get into the nitty gritty of specific species of these bugs, what pushes or pulls them away and what they're attracted to. We're just giving you a quick reference for a handful of your unwanted invaders and companions that can help move them away.
White flies
Carrot flies
Onion maggot flies
Asparagus beetles

Basil, tomatoes, nasturtiums

Japanese beetles
Mexican bean beetles

Marigolds, rosemary, sage, thyme

Flea beetles
Potato beetles
Pumpkin/Squash beetle
Aphids

Basil, dill, chives, nasturtiums, mint, oregano, cilantro

Spider mites

Chives, basil, dill, cilantro

Mosquitoes
White cabbage moths
White cabbage caterpillars
Borers
REDUCE YOUR WEED INVASIONS
Like pests, weeds can also be destructive to your garden/landscape. The more plants that grow in close proximity, the less space weeds have to grow. That means your plants will benefit from both water and nutrients because the weeds won't be greedily taking all the stuff your plants need.
If your garden is widely spaced with vegetables like tomatoes, peppers, or cabbage, place fast growing leafy greens like lettuce between rows of slower growing crops to create a temporary ground cover in the open areas. Select plants such as nasturtiums, beans and sweet potatoes that have long vines to help cover the ground. This blocks out sunlight and takes up soil real estate which can prevent weed seedlings from growing. Do keep in mind however that you'll need to space your plants accordingly. Some prefer a little more room and you could end up with stunted growth and a less successful harvest if you're not careful.
ENRICH THE SOIL, BOLSTER YOUR CROP
There are many ways you can help build and enhance the soil of your garden without resorting to conventional fertilizers. Companion planting is one of those ways! Certain plants have a symbiotic relationship with bacteria that dwells in the soil. The plant will provide carbohydrates to the bacteria, and the bacteria in return will scoop that gaseous nitrogen from the air in the soil and feed it to the plant. Without plants like these and when the sun dries the soil and bacteria out, the soil life dies and makes the chances of growing a healthy garden slim.
Peas

A good companion plant because they are nitrogen-fixing plant, which adds fertility to the soil, helping crops and other vegetables grow.

Beans

Another example of a nitrogen fixer for the soil.

Marigolds

Fantastic companions because they produce root phytochemicals that can discourage nematodes. The leaves contain a chemical that can deter fungus growth, making it easier for neighboring vegetables and plants to live a healthier life. If that wasn't enough, their strong scent also assists in keeping those pests away as mentioned before. Marigolds are great companions to tomatoes, peppers, and potatoes. We all need friends like these in our lives.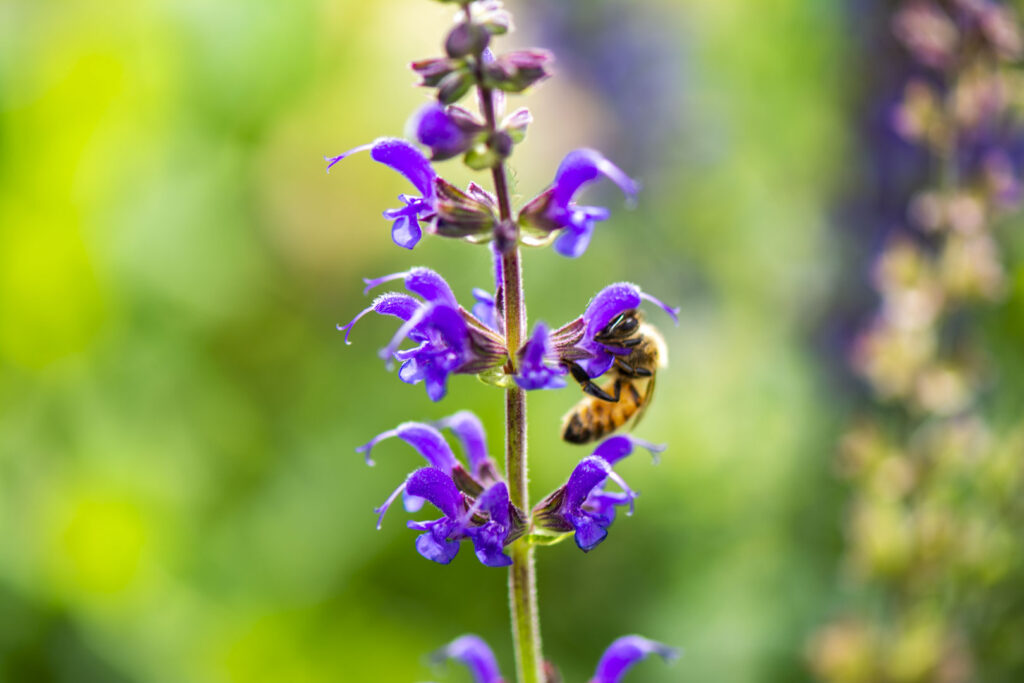 BUILD THE BUZZ & ATTRACT POLLINATORS
Butterflies, bees, and birds are essential pollinators, and it goes without saying that attracting them to your yard benefits the growth of your plants (we said it anyways). Plant those bright-colored, nectar-rich flowers and shrubs such as sunflowers, hyssop, bee balm, zinnias and lilacs to attract pollinators.
Three Sisters' Planting Technique
Using the three sisters' planting method is another way to create a weed-smothering ground cover. An example is planting corn, beans, and pumpkins in the same plot area of your garden. This creates a stacked garden and uses three layers to fill the space. Timing is key and you will need to plant the upright crop (corn) two to three weeks before planting the ground cover (beans and pumpkins).
Beans release nitrogen into the soil that the corn and pumpkins need to survive. The pumpkin vines can find shade in between the corn rows, which also helps shade the soil and the beans use the corn stalk to climb up for support and this creates a happy partnership between all three.
Choosing Companions for Your Plants
Vegetables & Helpful Companions
Whether you're starting your veggie garden fresh or building upon what you already have, we've gathered some suggestions of companions to add to your plot.
COMMON COMPANION PLANTS TO DETER PESTS, PROMOTE GROWTH & ATTRACT POLLINATORS
Companion planting is mutually beneficial for your plants. However, there are some common plants that make great companions for a wide variety of vegetables.
Companion Combinations to Avoid
While there are so many great pairings between vegetables, herbs and flowers, there are a few that don't work quite as well together. As with any garden, you need to consider water, sunlight and nutrient needs. Mint and lavender don't work well together, due to the fact mint enjoys a hefty amount of water, whereas the purple beauty that is lavender prefers a drier environment.
There are also plants that are allelopathic. To put it simply, some plants produce a chemical that can inhibit the growth of others. One example would be beans. Their biochemicals turn into a bit of a bully and don't play nicely with members of the onion family, such as leeks, chives and garlic. So maybe space them apart a bit.
Incorporating Companion Planting
Beans

Nitrogen fixers
Uses vertical space (trellises)
Spinach

Adds nutrients to soil
Fast growing all season
Cucumber

Great companion to beans
Delicious
Carrots

Low space users
Good companion to beans
Great for empty edges of garden
Marigolds

Helps deter pests
Color & aesthetic
Good for pollinators
This is really just a layer of the companion planting cake, and some of it you'll just have to test out for yourself. You have a lot of options to benefit your personal garden as well as contribute to a positive permaculture.
If you're starting your landscape and garden fresh, get in touch with our expert landscape designers to help you create your dream garden oasis.